Meridian's top 5 most underrated classes
As I conclude my time at Meridian, I was considering some of the most beneficial classes I took, both in terms of curriculum and how they were able to fit in with IB Diploma and General Diploma requirements. Before I selected my classes sophomore year, I did a lot of research and planning with the Meridian Program of Studies, which I suggest every Meridian student does. Throughout my junior and senior years, many friends asked me how I was able to fit as many free blocks and electives as I did while still being an IB Diploma Candidate with a rigorous course load. In order to offer some of this information, I have deemed it worthy to compile a list of the top five underrated classes at Meridian in order to guide any upcoming Mustangs. 
Here is my unofficial, completely subjective list of the top five most underrated classes at Meridian. These classes are not a reflection on their instructors, since this changes too often to offer withstanding feedback. Instead, this is a list of classes that have some hidden perks that many students may not know about, while still being worthwhile.
5. IB SL Economics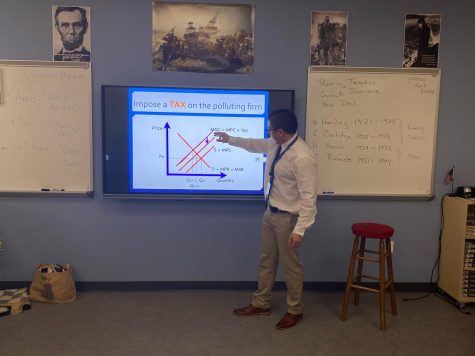 IB Econ offers a valuable curriculum and provides a completely different way of learning, not offered in any other class. Additionally, the IB IA component requires three 750 word commentaries done throughout the year, so it is less stressful than the one time, longer IAs required from other IB Classes. It also is considered a Group 3 on the IB Diploma, meaning it can be taken instead of an IB History Class. However, I believe this class is most valuable because it counts for the Personal Finance and Econ credits required to graduate. By taking IB Econ, one is able to knock out some core requirements, freeing room in their schedule, while also taking a constructive IB class.
4. AP Spanish
Obviously AP Spanish is not a class that is applicable to all student's schedules. I am not suggesting that anyone who takes Chinese or French should drop out just to take AP Spanish, however for those choosing between Spanish 4 and AP Spanish, it is important to realize that AP Spanish knocks out the IB Spanish SL1 requirement for the IB Diploma. Anyone seeking the IB Diploma is required to take two years of an IB level language course. AP Spanish counts for one of these years, while Spanish 4 does not. Therefore, it can become very valuable to take AP Spanish, because one can then finish the foreign language requirement by taking IB Spanish SL2 during their junior year, opening up an additional block for their senior year.
3. AP Statistics/Virtual Virginia Classes
This is probably the least known option out of any of the classes on this list, but I think it is an eye-opening option for many students. I took a Virtual Virginia AP Statistics this year, and I'll be honest, I was quite skeptical before I took it. I know a lot of friends who have taken virtual classes over the summer or during school and have ended up quickly getting behind or not gaining any real value from the class. However, AP Statistics was not like that. Virtual Virginia is a program that offers online classes for many subjects that are not offered by the school's program of studies. They are more regimented than Hy-C classes and provide weekly deadlines that must be met in order to get a good grade. For me, the regimented schedule was important to stop me from slacking. There are also optional live sessions and office hours at night to offer additional support. Specifically, AP Statistics is a great class to take because it gives students the opportunity to earn AP credit. However, Virtual Virginia offers a slew of courses not available in Meridian's Program of Studies. Some other courses include AP Human Geography, AP World and US History, AP Environmental Science, Arabic, and Latin. For anyone looking for quality classes beyond what's available at Meridian, it is worth checking out the whole list of Virtual Virginia Courses, found at this link.
2. IB HL Design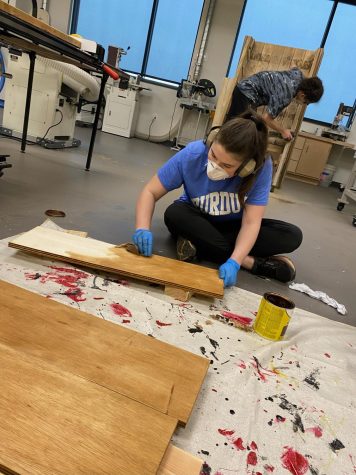 I should start this off with a disclaimer that I love Design Tech classes. No other class at Meridian offers as much of a hands-on component as Design Tech, while also offering a ton of real world applicability. This is true at both the IB level and the Design I and II prerequisites. The class offers a chance to work in the shop, while the in-class curriculum focuses on the principles of design, which are relevant to every product you see. The class includes components of engineering, environmental studies, and business.  I also believe it is a super doable HL class for any type of student. One of the perks that none of my friends seemed to realize was that Design Tech is one of the Group 4 courses for the IB Diploma. This means it is considered a science and can be taken instead of IB Biology, IB Enviro, or IB Chem. If you want an exciting class or need another HL class for your IB Diploma, strongly consider taking IB Design Tech. 
1. Emergency Medical Tech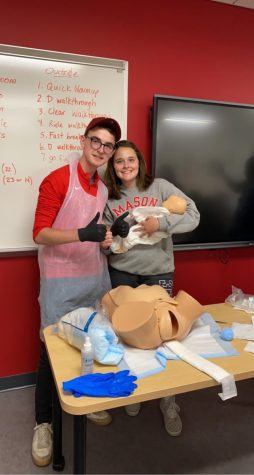 This class only had 14 students this year, which is surprising considering all the benefits it offers. Firstly, the curriculum is preparation to be an EMT who would be operating an ambulance. Therefore, the class has complete real world applicability and leaves the students prepared if they are ever in life or death situations. Some of the skills taught include splinting broken bones, delivering a newborn, and American Heart Association CPR certification. The class also offers the optional opportunity for students to participate in ambulance ride-alongs and hospital rotations. If these are completed, the student can take an EMT Certification Exam, which certifies the student to be an official EMT anywhere in the United States. There are students who take the class junior year and are then can literally operate ambulances during their senior year. A few common misconceptions seem to be that Emergency Medical Tech is the same as Sports Medicine or that it is a class that must be taken at the Arlington Career Center. Contrary to popular belief, the class is housed in Meridian and is very different from Sports Med. On paper, the class fulfills two credits, one science credit and one elective credit. It also is the only Dual-Enrollment class currently available at Meridian. The class offers seven college credits through Northern Virginia Community College. EMT class requires a lot of studying, but the benefits, both on-paper and real world, are some of the best available at Meridian.