Why are honors courses not weighted?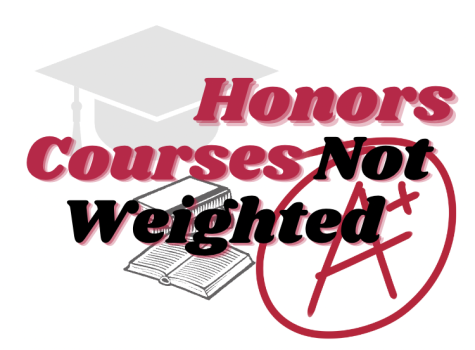 Most American high schools weight honors, International Baccalaureate, Advanced Placement, and dual enrollment courses, meaning they offer a boost to the student's grade point average. IB and AP classes are often weighted an entire point higher, while honors classes around the country typically provide a 0.5-point boost — something that Meridian honors courses do not offer.
Meridian offers 39 IB, five AP, one DE, and seven honors-level classes. However, despite honors courses being one of the only opportunities for underclassmen to take an advanced class, these classes do not provide any sort of GPA boost.
While "Honors" still shows up on a student's transcript as an attribute of the course, the lack of grade point weight makes Meridian students' GPAs appear comparatively smaller to other high schools, including neighboring McLean, Fairfax, and Falls Church.
While this may seem unfair on the surface, many colleges have methods of smoothing out inconsistencies between different high schools' GPA calculation methods. Some colleges entirely recalculate unweighted or weighted GPAs with their own scales, while many universities simply recognize the fact that some schools do not weight honors courses, and take the entire context of a school's advanced offerings into consideration while evaluating an applicant.
Some Meridian students shared strong opinions regarding the topic of honors courses and the weight they have on students' GPAs. 
"If we're expected to do more work, why shouldn't we get that additional GPA boost? It's unfair because the other schools in [neighboring] jurisdictions get the additional weight for taking honors classes," sophomore Joyce Tadesse Kassa said.
Students were not the only ones who had thoughts about this topic; teachers also had opinions.
"I came from a school that weighted their honors classes," science teacher Ms. Bayan Souqi said, "but it did not impact students' GPAs that much. I don't think it should matter. However, it may motivate students to try more in school."
Fortunately, the fact that honors-level courses are not weighted in this high school may actually prepare students for college better than in other high schools. This is because the majority of colleges do not weigh their advanced classes; every class is weighted the same.