Coach Anderson takes on title of head varsity coach of Meridian football team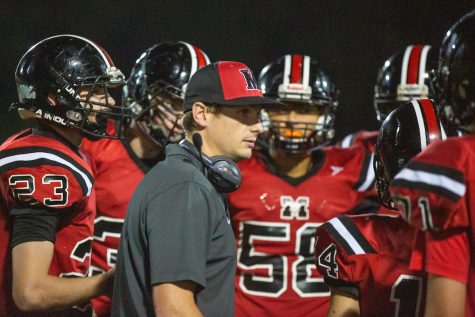 PJ Anderson has been the assistant coach for the Mustangs for five seasons, previously being the Special Teams Coordinator, Co-Offensive Coordinator, Offensive Line coach, and Linebackers coach. Former Head Coach Adam Amerine, who had coached the team for multiple years, decided to step out of the program after this past season, leaving the spot for Coach Anderson. 
Anderson is a GMHS Class of 2010 alum and earned his Bachelor's degree at McDaniel College in Westminster, Maryland. He played both Football and Baseball in high school and college. He is also an assistant coach for the Varsity Baseball team during the spring. Anderson has had a lot of experience playing and coaching football, which led to him being the perfect candidate and getting hired.
With him being the new head coach, he is going to bring a lot of leadership, discipline, and confidence to the team. "I think Coach Anderson will be a great coach and he is very passionate about football. He had a lot of success the past years and especially this year as the offensive coordinator and I can't wait to see what he has in store this year." said Varsity junior Kyle Jinks on the hiring of Coach Anderson.
The football players are very excited to play for Coach Anderson in the fall.