One last article before I graduate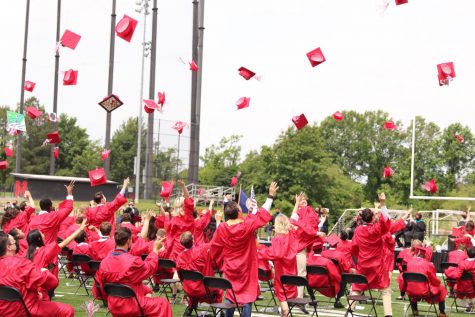 The past four years were not what any of us expected. Dare I call the time we spent in high school "unprecedented," although I know that word makes everyone cringe. 
We attended high school through the groundbreaking, completion, and ribbon-cutting of a new building, the demolition of the old one, a name change, a football field prom, a football field homecoming, a football field graduation, five different bell schedules and (I counted) nine Avengers movies.
Oh yeah, and a global pandemic. I think it's safe to say that none of us expected that when we walked up the stairs to get into the old building on our first day of freshman year.
Under our own eyes, we watched as the world shut down. We exchanged movie nights for Netflix Party, field trips for Zoom meetings, and showing up late to class for "oh no, sorry, my computer crashed again." On top of this, we were isolated from our friends and families and so many people experienced pain and suffering that was unparalleled from anything we have witnessed before. 
I didn't write this to remind all of us of what we have lost. Instead, I want to take some time to highlight how this pandemic and our time in high school has brought out the good in people. 
Teachers adapted to teaching online, then hybrid, then hybrid but full time, and then finally back to in-person school. Administrators worked day in and day out to not only bring us back to school, but to do it safely. The Falls Church Education Foundation's Family Assistance Fund raised over 150,000 dollars to help families in need over the past two plus years. Parents and other community volunteers helped move out of the old school building and into a new one. As the world changed daily around us, we adapted to every change in stride. 
Slowly but surely, we began to recover what we have lost. We reunited with our friends and teachers, we played sports again, we saw teachers again, we put on shows again. We had football field pep rallies, we played intramural football and volleyball. We danced to a bad DJ at prom and a much better DJ at homecoming. 
Now is when I'm obliged to remind all of you that the Class of '22 won powderpuff and volleyboys both junior and senior years. 4 and 0.
As many of us approach what comes next, I encourage us to all applaud ourselves and be proud of our work. We are resilient, strong, and can do anything we put our minds to. How our community came together to take care of each other proves that we are capable of taking on whatever our future endeavors throw at us.
The years we spent at Meridian will go down in history as some of the most tumultuous in recent memory. However, I encourage everyone to remember how the community came together to get everyone through hard times. See the good in people. Remember what we have all done for each other. Remember how resilient you truly are. 
On a personal note, I feel so beyond fortunate to have been able to share these past four years, whether in person or on Schoology conferences, with all of you. I hope we all keep in touch and that our paths cross again before too long. Thank you.