Secondary campus students participate in nationwide walkout to protest gun violence
On Thursday, May 26 at noon, students from both Meridian and Mary Ellen Henderson walked out of class to protest gun violence. The walkout was a part of a nationwide effort organized by Students Demand Action in response to a recent mass shooting at Robb Elementary in Uvalde, Texas, as well as the abundance of mass school shootings in the last decade.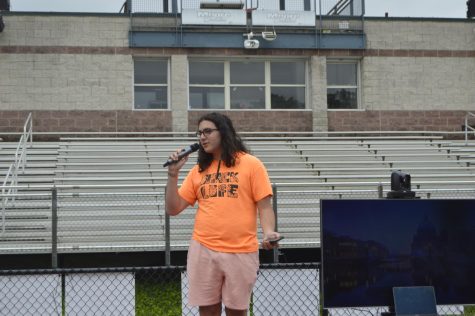 Junior Elijah Pelton organized the event at Meridian and started the walkout with a powerful speech. Pelton read aloud the names of the 21 confirmed victims from Texas, and the students in the crowd responded "enough" after each name. In his speech, he also provided four solutions to the problem of gun violence. 
Freshman Flora Pelton spoke next and addressed the recent false-alarm lockdown that occurred on the FCCPS secondary campus earlier this month. After describing the disrespectful remarks and jokes made by her classmates during the event, she called for fellow students to take gun violence seriously and involve themselves in efforts to combat it. 
Senior Sarah Ettinger and junior Erin Tarpgaard both spoke of their experiences at the walkout held four years ago at Mary Ellen Henderson following the shooting at Marjory Stoneman Douglas High School in Parkland, Florida. Ettinger described all of the protests that have taken place since then, including the March for Our Lives in Washington D.C., and expressed her disappointment that students' lives are still unprotected. Tarpgaard shared a moving personal story about her parents' daily fears of school shootings and encouraged voters to support the H.R.8 Bill, which would mandate background checks before all firearm purchases.
Elijah also organized for two local politicians to speak at the walkout. Virginia House Delegate Marcus Simon, who represents Falls Church and the rest of the 53rd district, spoke about his efforts to pass gun law restrictions. Simon also reminded students who are of age to register to vote as soon as possible. After Simon, Victoria Virasingh delivered a passionate speech about how younger generations have been affected by gun violence. Virasingh is running for the United States House of Representatives for the 8th District of Virginia. She called for students and teachers who are able to vote in the upcoming primaries to choose candidates who support gun control policies. 
To end the demonstration, Elijah asked all of the attendees to participate in a "die-in." Students laid down on the field for 213 seconds, one second for each death in a mass shooting since the start of 2022.  The walkout was attended by students, teachers, community members, and local news reporters.