Juniors participate in National Women's Half-Marathon Run
On Sunday, May 1, the National Women's Half Marathon Run took place in Washington D.C. Erin Tarpgaard, Katie Rice, and Chloe Calabrese, all Meridian juniors,  participated in the half-marathon together. The Lasso asked them a series of questions about the experience they had with the half marathon run.
The race was the first half marathon for all three students, and it posed an exciting new challenge for each of them. "I've always loved running, but I had never gone that far before and I wanted to give it a shot," said Tarpgaard.
Calabrese credits Tarpgaard with the idea to run a half marathon, and says that she was excited to turn her love for running into a longer "fun project." Rice, who ran in a Tough Mudder race over the fall, was excited to try out another race and eager to begin planning with her friends. 
Their run wouldn't have happened without hours of hard work and training in the months leading up to the race. Both Calabrese and Rice play field hockey and Tarpgaard plays lacrosse. Both sports were an excellent way to begin training for longer runs. "I followed a 10 week training schedule that I found on Google! Chloe, Katie, and I also sent each other selfies after every training run to keep each other motivated," said Tarpgaard.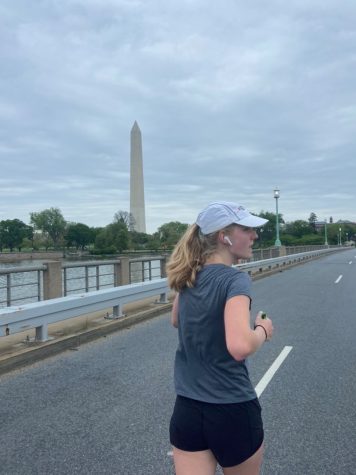 Having a training schedule was very important and allowed the runners to keep track of how many miles they could run every day. "I trained for about 11 weeks. My plan included shorter weekday runs and one long run on the weekends, along with strength and sprinting during track practice. I also tried to drink a lot of water and carbo-load the night before," said Calabrese.
Hydration doesn't always seem important until a race begins, but it is essential to drink water before a long run. Dehydration can lead to shortness of breath and fatigue, so the runners made sure to plan out when they would drink water and eat snacks during the run.
Rice took a more risky approach to her training. "I didn't really do that much. I ran a couple of long runs over the weekend to condition, but I kind of just went in blind," she said.
Luckily for the runners, their different training methods paid off and they each found the experience extremely rewarding. "The actual race went really well! The course was so beautiful! We ran around almost all of the DC monuments and it was a total blast," said Calabrese.
"I felt so accomplished when I was done! The weather was great when we ran; it was cloudy and cool," said Rice. 
All three of the runners said that it was an unforgettable experience, and one they hope to repeat. "I would totally run another half marathon! My family and I are actually running one together next fall. I'd love to run a marathon too but that's not in the cards for me right now." said Calabrese.
They specifically recommended the National Half Marathon for other female runners, and Calabrese said the whole race made her feel "safe and empowered." "I would recommend [doing this half marathon] to other runners. This specific race was so well done and a lot of fun," said Calabrese.
Having the right mindset and preparation is essential for all types of events, not just for running. "I think anyone with a good mentality and work ethic could complete this race," said Rice.
The race was a great experience for Tarpgaard, Calabrese, and Rice. This is a great opportunity for other athletes who want to cross off a half marathon run on their bucket list.