Top picks from Taylor Swift's "Midnights"
Two weeks have passed since Taylor Swift surpassed everyone's expectations with her new album, "Midnights." Her lyrical genius, magical vocals, and incredible instrumentals have gained Swift the title of "Mastermind." Each song has a different significance to everyone which makes this album so versatile. Here are the tracks we felt were "Bigger Than The Whole Sky."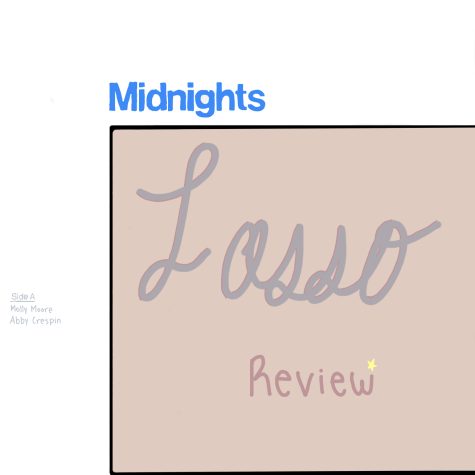 Lavender Haze 
Molly: Lavender Haze locks me in immediately whenever I listen to it. The beat is a perfect opener to the album, and it is almost mesmerizing. I love how she aligns the lyrics with the beat because it makes the song fun to sing to or great for if you want to zone out. I love the lyrics and how she discusses pressures she faces. "Lavender Haze" is a great song for confidence and feeling energized. 9/10
Abby: Excellent opener. It reminds me of "I Think He Knows" in the best possible way. I love Swift's use of intricate metaphors and new phrases to describe typically common ideas and emotions. She truly excites us all for our own lavender hazes, and the rest of the album to follow. 8/10
Maroon
Molly: I love how the song builds from the dark beat at the beginning and in the verses to the chorus which gives the song lots of energy. Listening to the lyrics is also very interesting and makes you think about what the word maroon truly means. I think Maroon is a song that fans will continue dissecting. 8/10
Abby: Swift does an excellent job of shifting between a dark low tone in the verses to a misty, ethereal chorus. Truly captures the listener from start to finish. 7/10
Anti Hero
Molly: I really like the blend of the beat and her voice at the beginning of the song. The lyrics definitely felt a bit awkward, however, I think that it plays well into the uncomfortable meaning of the song. 9/10
Abby: While I understand the perspective and can appreciate the meaning of the song, it's definitely not my favorite. I was expecting to bawl my eyes out and was met with an awkward beat that clashed with the lyrics. 5/10
Snow On The Beach
Molly: I love how this song is mystical and almost transports me to a snowy beach. This song also subtly reminds me of the holiday's cheery feeling. 10/10
Abby: Honestly, I was unsure about this album on my first listen, but Snow On The Beach completely changed my previous thoughts. From the dreamy harmonizations to the heartwarming lyrics, I adore everything about this song. I can practically feel the snow falling as I listen. 9/10
You're On Your Own, Kid
Molly: Not only does the beat of this song fully capture my attention whenever I listen, but I have also found myself thinking about the lyrics of this song as well. I find them very relatable which I also believe has contributed to the success of Swift's music. 9/10
Abby: While not a regular pick for me, I think that this track does an exemplary job of storytelling through carefully crafted lyrics and talented voices. 7/10
Question…?
Molly: I'm not sure how I feel about this song. I think it's catchy, but I definitely need to be in a certain mood to listen to it. However it may grow on me… 7/10
Abby: Highly underrated and highly relatable for all the nosy swifties out there. 8/10
Bejeweled
Molly: Swift has provided the whole world with the ultimate confidence song with this track. 9/10
Abby: Swift tends to receive criticism for songs like Bejeweled for their lack of lyrical complexity, but I firmly believe in the revival of 2015 sappy pop. Bejeweled is the perfect song to dance to in the mirror to hype yourself up. 8/10
Labyrinth
Molly: This song is so unique and creative. I love her clear voice and how the instrumentals behind it allow her voice to dominate the song. 8/10
Abby: The shift from Bejeweled to Labyrinth is an excellent showcase of Swift's range of talent. Her albums are so diverse and each song is so different from the next, but each song also still perfectly fits into the overall album. In addition, the vocals on this track are amazing. 9/10
The Great War
Molly: The Great War will be the perfect song when I've just gone through something and need a song to pick myself up again. While the chorus is catchy and I listen to it often for no particular reason, I think the lyrics give me the confidence to keep going. Everyone needs a song like that.  
Abby: The Great War is definitely not an album skip for me, but other than my appreciation for the romance in the lyrics, I don't have any thoughts on the song overall. I think it's well written and has strong vocals but it's not my favorite. 7/10
Would've Could've Should've
Molly: I love the build from the first verses to the chorus, it always excites me for what's to come in the song. All I want to do when I listen to this song is drop everything and sing along and allow my soul to be crushed. 9/10
Abby: Heart-wrenching but beautifully done. Currently gearing up to fight John Mayer. 9/10