Meet the SCA Committees
There are many ways that students can get involved at Meridian High School, and one of those ways is joining an SCA committee. These committees work to improve student wellness, make our school more environmentally friendly, increase school spirit, and ensure that everyone has equal opportunities. 
There are currently four SCA committees. The Spirit Committee, the Social Justice Committee, the Wellness Committee, and the Environmental Committee. The Environmental Committee is the newest addition, only being introduced this year.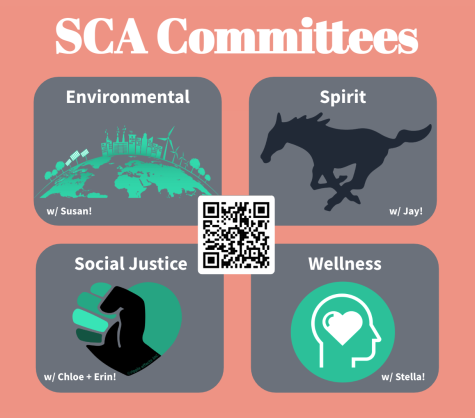 The Spirit Committee
The Spirit Committee is run by Jay Humphreys, a senior at Meridian. It works to create spirit days and raise school spirit. The Spirit Committee differs from other committees as its focus is almost entirely within the school, whereas other committees have a much wider interest. 
The Spirit Committee's narrower focus could lead some to believe that this committee is less valuable or important than others. However, the Spirit Committee does a lot around the school to promote school spirit. They have already started planning the winter spirit week that coincides with the winter pep rally. 
"I think [the Spirit Committee] is important, but it has different goals from some of the other committees. Obviously, the Environment and Social Justice [Committees], [have] much bigger issues that are very hard to tackle. I think the Spirit Committee is something we can do to try and raise spirits at this school. It's still very important, it just has a different axis of helping." Humphreys said.
The Social Justice Committee
The Social Justice Committee is run by seniors Chloe Calabrese and Erin Tarpgaard. They focus on ensuring equality for all students within our school. There is a lot of injustice in this world, and the Social Justice Committee works to fight that. While they have not begun meeting, Calabrese and Tarpgaard have plenty of ideas. 
"[November] is Native American heritage month … one thing I aspire to do personally with the Social Justice Committee is really highlight that, and make sure students are aware of the history of our country," Calabrese said.
The Social Justice Committee makes sure that all students are treated fairly and equally, and are given a safe space to learn. Calabrese continued by saying, "Our mission is to collaborate with other students and groups to advocate for social justice in our school community. So we hope to increase empathy- that's our mission statement." 
The Wellness Committee
The Wellness Committee is run by senior Stella Turner and works to increase the mental and physical wellness of students at Meridian. Attending a high-performing school can be stressful, and there is pressure to do well, so the Wellness Committee works to alleviate stress. Last year, the Wellness Committee created Wellness Wednesdays, in which they would post an activity on Schoology, like a set of stretches or a coloring page, for students to do in order to alleviate stress. This is something that Stella hopes to bring back this year. 
The wellness of students is important, and with the large amounts of homework high school students are expected to do, it is important to find a way to cope with stress. "Our school is so academic," Turner said. "We work so hard. Every single person here has work, and has stress to do with work, and we don't always, as a school, facilitate ways to alleviate that stress. Normally people do things outside of class to get rid of stress, they hang out with friends, but those are all outside of school. So I think that it is good to have a school-based organization that works to combat stress."
The Environmental Committee
The Environmental Committee is a new committee this year, run by junior Susan Rotherham. The committee hopes to make our school more environmentally friendly in a variety of ways. They are currently planning a recycled electronics and batteries drive. Because they are a new committee, they have to build from the ground up, and that has not been without its challenges. Rotherham stated that they are having trouble getting people to join due to other commitments. "Getting people interested in a new committee at Meridian has been a big challenge. Many students already have connections to different clubs and committees, so don't see a new committee as one they should join," Rotherham said. 
When asked about the importance of her committee, Rotherham responded, "We are working to help reduce Meridian's student body's environmental footprint. Earth is our home, and it's every student's job to protect it."