George Mason veteran alumni honored in ceremony
On Friday, November 11, Veteran's Day, Meridian High School held a ceremony in the main gym to honor four George Mason High School graduates who served and lost their lives during the Vietnam War. Army Staff Sergeant Charles Richard McNulty (Class of 1965), Captain David Rockwell Crocker Jr (Class of 1961), Captain Neal Emil Monette (Class of 1958), and LTJG David Gerald Smith (Class of 1955) were all honored by friends, family, and school officials.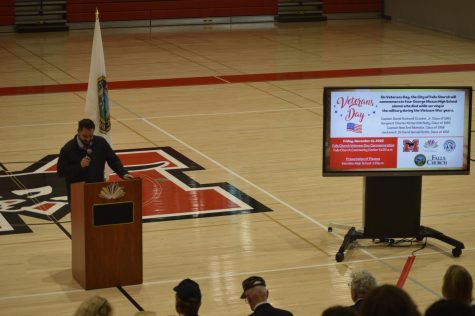 This commemoration event was organized by Marybeth Connelly and involved researching the men and creating plaques that commemorate their lives before and after they graduated from George Mason High School. To honor the induction of these young men into the war veteran memorial at City Hall, family and friends spoke about their lives in and around Falls Church as well as their ordinary lives at George Mason.
The experiences these Mason graduates experienced are still traditions that many of the past and current students at Meridian experience as well. "One of the guys was a football player and, I think, the Homecoming King. One of them worked for the Lasso. There are all these things that they did that we still do here. [It's interesting] to see that they were involved in these things and lost their lives," said Mr. Eric Duchaj, a HY-C (hybrid-curriculum) teacher at Meridian.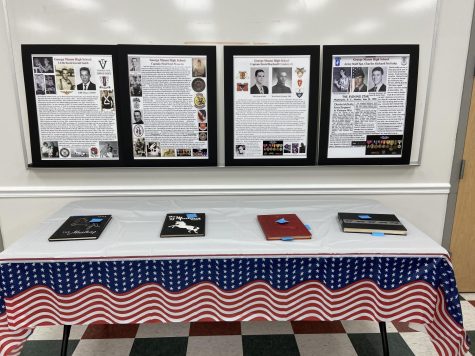 The honoring of these George Mason veterans is especially important because of the initial reaction that soldiers who fought in the Vietnam War received after their return home. "Because the war was regarded so poorly by so many of the population… the people who did nothing more than answer their nation's call to serve… generally were degraded and looked down upon for their service. Things have gotten somewhat better for the individual participants in the nearly 50 years since (as evidenced by this dedication)," said Doug Smith, an alum from the George Mason class of 1958.
As we honor the fallen George Mason High School graduates Army Staff Sergeant McNulty, Captain Crocker Jr., Captain Monette, and LTJG Smith more than 50 years after the war, we continue to celebrate their legacy.