Successful run for Meridian track team at state championships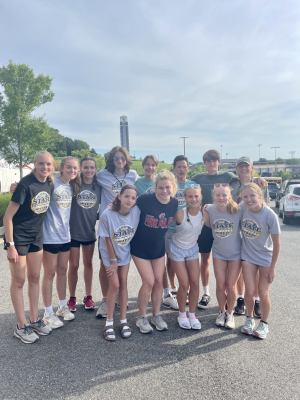 On June 3 and 4, the Meridian track team sent 13 runners in 11 events to the Class 3 State Outdoor Track and Field Championships. The meet was held at the Liberty University track and field complex in Lynchburg, VA.  The boy's track team competed in the 4×800 m., 110 m. hurdles, 1600 m., and 3200 m. races. The girl's team competed in the 4×100 m., 4×400 m., 4×800 m., 400 m., 800 m., 1600 m., and 3200 m. races. 
The meet was a success for the Mustangs, with new season bests and high placements. The girl's track team achieved All-State Honors, meaning a finish in eighth place or higher, in four events. 
Molly Moore was the highest placed freshman in the 3200 m. in seventh place, bringing the first All-State finish for Meridian in this event since 2016. Junior Grace Crum placed third in the 800 m, which was the highest finish by a Mustang in the event since 2017. This was Crum's second All-State finish in the event. The girls' 4×800 m. relay team, which consisted of senior Lauren Mellon and juniors Peyton Jones, Alexis Niemi, and Grace Crum, placed seventh with a new season-best time.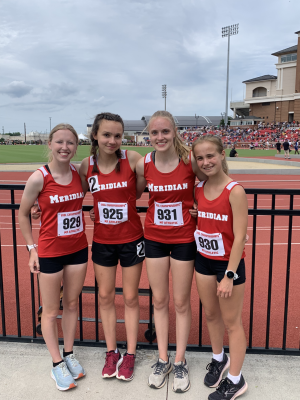 The girls' 4×800 m. relay team of Mellon, Moore, Niemi, and Crum were state runner-ups in their event, with a season best finish. The runners also beat a previous school record set in 2019 and secured a spot in the New Balance Outdoor Nationals championship meet. The four girls will travel to Pennsylvania from June 16-19 to compete in the 4×800 m. national relay.