Meridian prepares for annual club fair
Along with all of the excitement that the start of the school year brings comes the opportunities to engage in a variety of extracurriculars that may interest Meridian students. The annual club fair is being held September 29th during Mustang Block. Whether you are just there to walk and talk with friends, or just walking among the booths for the free candy, clubs are the perfect opportunity to find new hobbies and meet new people. To prepare for this event, different clubs are meeting and starting to prepare for the club fair and all the activities there after.
One such club, Model United Nations (MUN), is starting early, hoping to inspire many people to join. This club works to simulate the United Nations, a collective of countries working together to solve world problems, in order to help grow communication and debate skills in high school students. 
"We have meetings once a week where we will prepare for conferences by learning about world issues and learning about and practicing public speaking. Then we'll go to these conferences and simulate a UN conference by debating, problem solving, and communicating with other people from other schools about real-world problems," said sophomore Ally Campbell, a member of the MUN Executive Board.
This club comes together with other schools that also have Model UN clubs to debate and create solutions to many global scenarios. They also attend a few conferences throughout the year at both colleges and high schools to further their public speaking skills. 
"We are hoping to go to one or two college conferences and three high school conferences. With Covid the last few years, it's been really hard to go to more in-person conferences, so this year we're going to try to meet super consistently, get a strong group of club members, and then go to more conferences," Campbell said.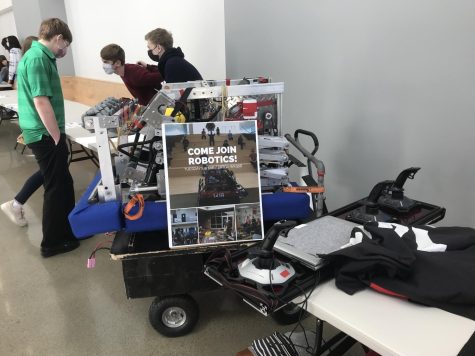 The Meridian Robotics Team 1418 has also started preparing for the club fair and the events for the rest of the school year. The team does a lot throughout the year, from planning and fixing robots to organizing a pumpkin sale.
"We build robots, so currently we're fixing up our robot from last year which should be at the club fair doing stuff. We're also planning for the preseason and figuring out ways to teach new members. Then our actual season starts in January and we'll actually be making a totally new robot," Brandon Werbel, a senior and team captain, said. 
You don't have to have any prior knowledge to join the robotics team, which gives opportunity to freshmen and others looking for robotics experience. 1418 also organizes fundraising events, one of which is coming up soon.
"The big one that people recognize is the annual pumpkin patch that we do in the fall, so leading up to Halloween, we sell pumpkins for the community outside the high school," said Werbel.