FCCPS GIVEs back
GIVE Day Clubs host meal packing events on the Martin Luther King Jr. Day of Service.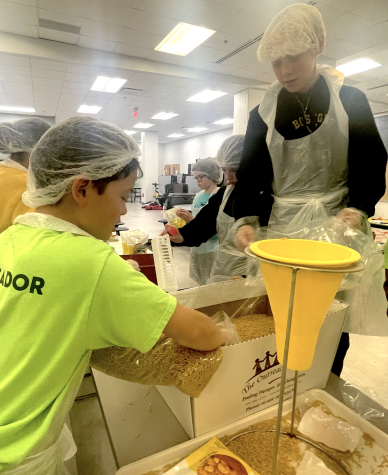 On January 16, Mary Ellen Henderson Middle School and Oak Street Elementary School held their respective GIVE Day events at the secondary campus. 
The Henderson club began their planning and fundraising process in November, meeting weekly before and after school. The group worked in collaboration with the Outreach Program. They packed over 25,000 pasta meals, half of which will be donated to a local food bank for families and the other half donated to Ukraine. 
 The Henderson GIVE Day ambassadors ran the event with assistance from parent volunteers, along with their staff sponsor and 8th grade English teacher, Mr. Ross Mandel. Community members and students from both schools participated in the event as well. 
Additionally, the Meridian High School GIVE Day leaders and members helped with planning and packing. 
"The high school GIVE Day [Club] communicated and made plans with the elementary school and middle school, giving them guidance but also allowing them to be creative" sophomore Grace Calabrese said, a member of the incoming Meridian GIVE Day Executive Board.
Prior to the packing event, the club spent months preparing, planning, and fundraising. Members and volunteers planned bake sales and had teachers volunteer for "Pie Face" and "Hair Salon" fundraisers. Members sold raffle tickets to students for a chance to throw a whipped cream pie at select teachers, and they set up containers that students could fill with money that acted as a voting system to choose how students would style the teacher's hair. 
The Oak Street GIVE Day Club hosted their packing assembly in the Meridian Aux Gym. They packed over 2,147 power packs in collaboration with The Falls Church Chapter of AKA Sorority. The group also gathered donations of canned goods and sports gear that will be donated to Africa. In addition, they designed reusable tote bags to promote sustainability in shopping.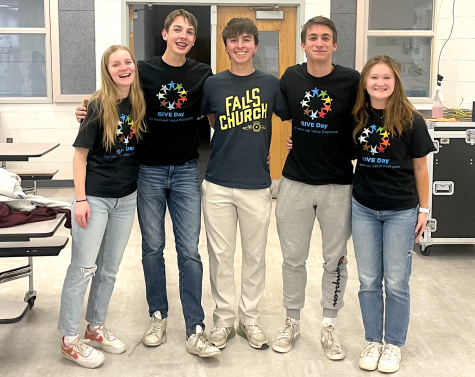 The elementary school also worked with the Meridian GIVE Day Club through the preparation process. 
"A small group of high school representatives [visited] Oak Street and [allowed] the younger kids to share their ideas," Calabrese shared. 
Since 2020, the Meridian GIVE Day Club has sent high school ambassadors to help Oak Street's club brainstorm and plan their own projects. The initiative doubled over on the club's foundation of GIVE — Get Involved, Value Everyone — as it encourages the participation of young students in community service.
Along with the student leaders and participants from elementary to middle to high school, many vital community members, staff sponsors, parent volunteers worked diligently to make this MLK Day of Service event possible.