For the record: Ten more love songs
2 years ago, past column writer Audrey Morrison wrote the article The best love songs of all time, and this year, I thought I should throw in my two cents. So, whether you're alone this Valentine's Day or have somebody to share it with, tune in to this special installment of For The Record! 
10. "MakeDamnSure" by Taking Back Sunday
What better than Taking Back Sunday for a Valentine's Day playlist? At its most cliche, emo is just some white guys whining about love… sometimes, we just need a sappy, melodramatic, emo song to jam to. 
9. "Kid A" by Radiohead
This track brings to mind an AI's attempt at love—convoluted, terrifying, even—but beautiful nonetheless. I thought about the AI art controversy while writing this, and this terrifying, dystopian computer empathy is not too far off from now. The heavily vocoded vocals and eerie drum machine loops are off-putting, but somewhat endearing. 
8. "The Book of Love" by The Magnetic Fields
Most of Stephen Merritt's songwriting is beautiful, but here might be some of his best work. It's an awfully romantic notion, yet incredibly depressing at the exact same time. Still, no one could have said it better than Merritt on love than that "Some of it is just transcendental, some of it is really dumb." 
7. "Something In The Way She Moves" by Tom Rush
Originally written and performed by James Taylor, I think there's something in Tom Rush's version that kicks it up a level. It has the upbeat energy of a first love, when the relationship feels brand new and starry-eyed.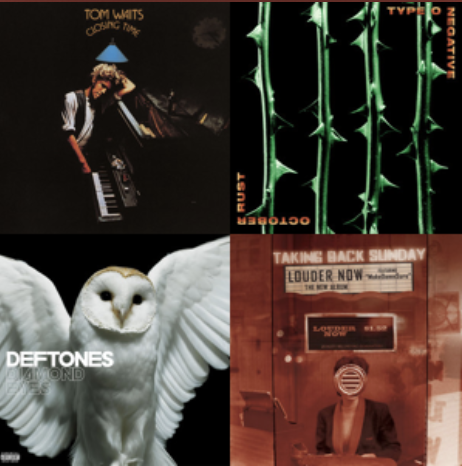 6. "Must Be Dreaming" by Frou Frou
The ethereal quality of this track makes it feel like the perfect love song. It builds in the verses, exploding into the chorus with a beautifully full atmosphere that must sound the way love feels. 
5. "Love You To Death" by Type O Negative
The song by goth band Type O Negative is probably more fit to be on a Halloween playlist than this one, but hear me out. "To death do we part, but also in death we join?" Melodramatic, I know, but that's exactly what lovelorn music fans are looking for during Valentine's Day. 
4. "To Ramona" by Bob Dylan 
Bob Dylan is a folk mastermind, and my love for him will never cease. It sounds like his love for the object of this song will never cease either. It's a sweet but heartfeltly sad song, where the narrator proclaims his love for Ramona even in the midst of pain and suffering. 
3. I hope I don't fall in love with you" by Tom Waits
There's something so bittersweet about this track. Off of one of Tom Waits' first albums, "Closing Time," you can hear how earnest and bright-eyed he was. Falling in love with a complete stranger only to never see them again sounds like a nightmare, especially without Craigslist's "Missed Connections" board
2. "I Went To The Store One Day" by Father John Misty
 An ode to Josh Tillman's wife, this song is about finding joy and love in the most mundane of things. Set against the violin and Tillman's guitar, it follows their relationship from when they first met to finally ending in death. Even though the track is just so sweet, there's an element of this song that asks what if Tillman didn't go to the store one day? What if they never met? 
1. I Will Follow You Into The Dark" by Death Cab For Cutie
I'm not sure what else to say—the lyrics tell it all. 
Honorable mentions: "Diamond Eyes" by Deftones, "To Be Alone With You" by Sufjan Stevens