Opioid overdose in neighboring school prompts alerts of precautionary measures
A recent opioid overdose at Wakefield High School in Arlington, VA, caused alarm throughout high schools in Northern Virginia. Drug abuse is on the rise in Virginia public schools, which has a number of negative repercussions on the state's public health, including but not limited to an increase in overdoses requiring emergency care and fatalities. 
"It is with a heavy heart that I reach out to you this week to address a serious issue that has arisen at a neighboring school," Associate Principal David Serentsis stated in a Schoology post early Friday, "tragically, there has been an overdose in a neighboring school community, and it serves as a harsh reminder of the dangers that you all face every day."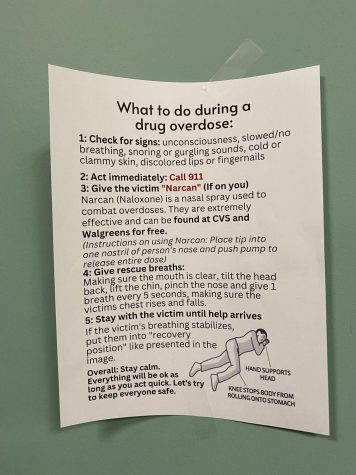 These issues are not exclusive to Arlington County but are a rising problem in the state and the entire nation. According to the CDC, there have been 197 opioid-related overdose deaths in Virginia among 15-24 year olds in 2021 alone, a number predicted to rise over the coming years. For more information concerning this topic visit this link. 
In an effort to battle the public health crisis affecting nearby schools, the Meridian administration informed students about Naloxone. More commonly known as NARCAN, this medication is available on school grounds and can be used to reverse the effects of an opioid overdose. 
The availability of this medication isn't just limited to the high school; according to Meridian Announcements, "FCCPS, in collaboration with the Falls Church City Police Department, the Virginia Department of Health, and the Fairfax County Health Department, is ensuring our secondary schools — Mary Ellen Henderson Middle and Meridian High — have NARCAN/Naloxone available should it be needed on campus." 
The school is taking additional precautions to ensure the safety of students, saying that "as of today, our School Resource Officers (SROs) and Clinic Health Aides are trained in the administration of NARCAN/Naloxone. We are working with our community partners to set up additional training on how to use this life-saving medication."
In addition to offering life-saving medication, signs have been posted in the bathrooms on campus instructing students on what to do in the event of a drug overdose. These action steps include checking for signs of unconsciousness, calling for help from emergency services, administering NARCAN medication, giving rescue breaths, and remaining with the victim until assistance arrives.