Oak Street bridge over Tripps Run to be replaced
Starting Feb. 13, the bridge on South Oak Street over Tripps Run is being replaced for the sake of safety, and as a result, the section of South Oak Street between Timber Lane and South Lee Street, has been closed to traffic. The traffic flow will not return to normal until the fall of 2023. The bridge has long been in need of repairs, as safety concerns have been reported since 2012.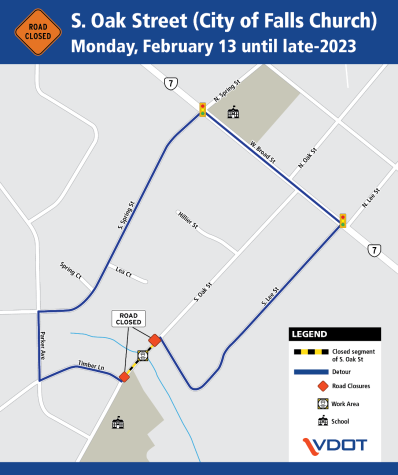 According to the Falls Church City website, in 2012, professionals from the Dewberry construction company gave the bridge a four out of ten safety rating. The bridge was constructed with steel beams reinforced with concrete. However, when the bridge was inspected, professionals from Dewberry noted severe corrosion to the steel beams and hairline cracks along the concrete. Wooden blocking was installed where corrosion had taken place, but the bridge was still judged unsafe.

The bridge was built in 1953, and currently has a weight capacity of 10 tons. This has become a problem for student transportation to schools in the area, as the bridge is now no longer capable of safely holding a school bus' weight. Falls Church City schools changed their routes of school buses to accommodate for the bridge and ensure students would arrive safely to and from school.

Although the Tripps Run bridge's annual safety rating has remained at four since 2012, the repair currently taking place is the first time the issue has been addressed. Despite the fact that each inspection has recommended replacing or repairing the steel beams that hold up the bridge, it was not until October of 2019 that a conceptual design was discussed.
According to the Virginia Department of Transportation, the new bridge will have a concrete foundation, walls, and deck.
The project itself is estimated to cost 2.6 million dollars and is partially funded by the Regional Surface Transportation Program and the State of Good Repair. It is being administered by the Virginia Department of Transportation.