Meridian introduces IB Career-Related Programme
Often when students want to achieve beyond an advanced high school diploma at Meridian, they consider the International Baccalaureate (IB) Diploma Programme (DP).  However, there are other options. The IB Career-Related Programme (CP) allows students to explore a specific career pathway that they are interested in, while also taking Diploma Programme courses to get the academic fulfilment they desire. It was introduced to Meridian High School this year.
Unlike DP, the CP allows students to engage in challenging coursework that is tailored to their specific needs, decreasing the stress on students participating.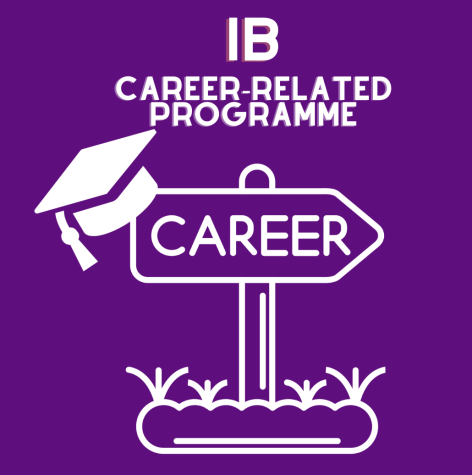 "The Diploma Programme is all-in," said Ms. Jones, Sustainability Coordinator and leader of the Career-Related Programme. "The Career-Related Programme does not ask students to take that all-in approach. They can essentially schedule themselves in ways that they are taking advanced coursework either in ways that lend themselves to their career study or lend themselves to their individualized strengths."
The IB Career-Related Programme allows students to investigate a specific career pathway they are interested in, while also participating in a challenging yet manageable set of courses. CP students still partake in quite a few DP courses but are not required to take as many. 
"It really helps to have that opportunity to dive in and focus on one or two particular career related fields and tie a lot of what they are doing back to this certificate designation that gives them credit for what they are doing, in terms of focusing their secondary academic career on one career strand," said Mr. George, who teaches Design at both normal and IB levels.

Despite this, there are still some similarities. CP students are still required to take at least two DP courses, which include both internal and external assessments. They must also take a course called IB Personal and Professional Skills. The class focuses on critical thinking, communication, open-mindedness and understanding, ethics, and personal development, all of which prepare students for life outside of high school. 
Additionally, like Diploma Programme students, Career Related Programme students must complete a capstone project to receive their final award, the Career Pathways Certificate . For DP students writing an extended essay is their capstone project. However, CP students complete the Reflective Project instead. For their Reflective Project, students are forced to confront and write about an ethical issue within their field of study.  For instance, sports medicine students may consider the ethics of concussion treatment and how many players are sent back onto the field despite having concussions or other injuries. 
CP candidates are also required to engage in 50 hours of community service, and 50 hours of foreign language learning throughout their junior and senior years. However, unlike the Diploma Programme, they can choose any language they want, and can switch languages while working towards their Career Pathways Certificate. 
The career pathways currently offered at Meridian are in computer graphics, computer science, design, EMT, energy, and sports medicine, although the offerings vary by school. Each allows students to take their studies in a unique direction that will help them achieve their goals after graduation.
Ms. Jones hopes that this will allow students even more opportunities to achieve their goals. "The all-in nature of the Diploma Programme can restrict students from leaning into their interests," she said. "This is just another option that allows students to still have rigorous coursework with the capstone experiences, the service connections, and the focus."