Girls' basketball ends in state semifinals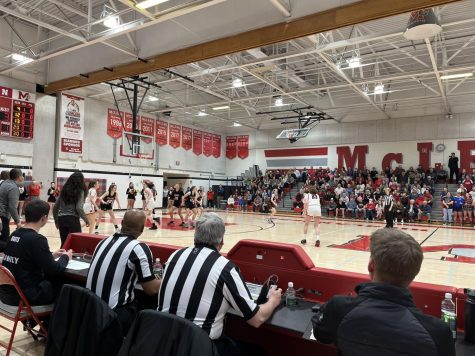 After a fourth consecutive Region 3B Championship title and a 49-26 win in the state quarterfinals, the Meridian girls' basketball team ended their season on March 6 against district rival Brentsville, 41-46, in the state semifinals.
In the quarterfinal win against Lafayette, senior captain Elizabeth Creed was taken out early by a broken wrist after a foul by the Rams. Since 2019, Creed has been a Meridian starter and major point scorer, leaving the Mustangs down a vital player going into the rivalrous semifinal game.
Despite an early lead in the first quarter, 15-10, which continued into a 23-18 lead at the half, the Tigers took advantage of the incomplete Mustang team to tie the game 32-32 after the third. Sophomore forward Nora Stufft fouled out at a critical point in the second half, as Brentsville edged out small leads throughout the fourth.
Late in the last quarter, the game stood at 38-38 as the Mustangs played catchup after an onslaught of Tiger points. In a tumultuous and loud last minute, Brentsville scored eight more points, including multiple free throws, while senior captain Peyton Jones was the last Meridian scorer with a 3-pointer 1.6 seconds before the buzzer.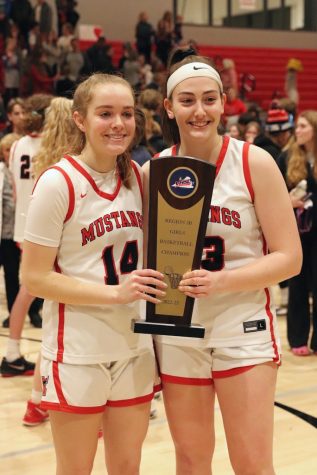 Ultimately, the Mustangs fell 41-46, marking their second loss of the entire season. Meridian had beaten the Tigers twice in the regular season, 57-29 at home and 47-44 in Brentsville, as well as once to secure the Region 3B Championship on Feb. 24. With the uncharacteristic loss, the girls end their season with an overall record of 25-2.
The felled 2022-23 team still continued one of the greatest team sports streaks Meridian has ever seen. Seniors Peyton Jones and Elizabeth Creed helped lead the girls' team to a Region 3B Championship and state tournament appearance for four consecutive years, including a State Championship in 2021 and a State Runner-Up title in 2022. Jones and Creed will continue their basketball careers at the University of Rochester and Christopher Newport University, respectively.
Along with returning junior Maureen Tremblay, young talent joining the influential seniors this season included sophomores Ellie Friesen and Nora Stufft, who consistently put up points and were named to the all-District and all-Region teams. In the semifinals, Tremblay had 15 points, Friesen had 6, and Stufft had 4, all supporting Jones' 20.
Though the team had to say goodbye to four senior players, including Creed, Jones, Elisa Goislard Nguyen, and Isabella Zullo, the up-and-coming underclassmen still hold plenty of promise to continue the Meridian girls' basketball legacy.