Checks, clocks, and checkmates: Inside Meridian's Chess Club
Tick. Tick. Tick. Upon walking into Room 413, you are immediately immersed in the world of chess. Boards are lined up in unison around the large classroom and players sit across from one another, staring intently at the board and rapidly moving pieces with the simple flick of a master's wrist. The room is completely silent; the only sound present is the occasional clanking of the plastic pieces or ticking from each of the clocks as each second passes.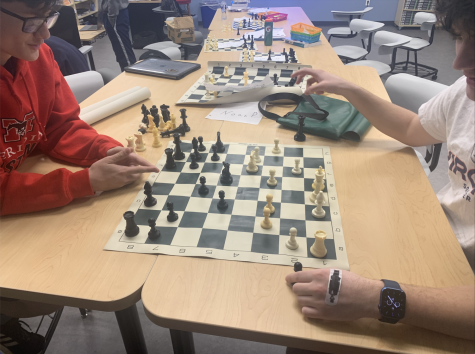 You have just entered Meridian's Chess Club, a group with more than 60 total members, sponsored by Mr. Rivera. The club is in the midst of an exciting Swiss tournament, meaning each competitor competes in the same number of games and the winner is determined based on one's cumulative score at the tournament's conclusion. 
"The purpose of the chess tournament was to create a fun way to try and attract more chess enthusiasts," sophomore and co-founder Ben Beloe said. 
His plan seems to be quite successful. The tournament currently has more than 20 players, with even more interested in signing up.
"We host weekly games and use a round-robin system to keep track of each one," Beloe continued. "So far, participation has been excellent and we are very grateful for the help of both Sam Austin and Mr. Rivera." 
Many of the members have expressed plenty of enthusiasm regarding the tournament. 
"The tournament is the perfect blend of competitiveness and educational learning. I'm able to face my friends in a one-on-one match while also practicing new skills and openings I've developed. Everyone is so focused on winning first place, especially me," junior Grayson Kusic said. 
While Chess Club may appear a little too competitive to some at first, the co-founders assure that the club is meant for anyone. 
"We want to be inclusive of anyone who wants to play the game of chess, so we accept a wide variety of players ranging from different skill levels and different ratings," Beloe said. 
The idea behind starting a chess club began in the summer of 2022, when interest in the game surged on the online virtual platform Chess.com. As a result of chess resurfacing, students at Meridian started to find enjoyment in the old game. 
"We noticed that there wasn't a chess club at Meridian, so we did some research and we discovered there was one last year," sophomore and co-founder Quinn Drennan said. "Unfortunately, the leader of the club graduated, so we decided to chat with Mr. Rivera, who was the club's sponsor last year, and he agreed to help us out." 
The club meets every Monday and Friday during Mustang Block. Each member will find an open board scattered throughout the room and play a friendly match with an opponent. The two co-founders walk around the room, analyzing each game and offering instructional feedback and suggestions to each player. 
"I like how Quinn and Ben run Chess Club. It is very unstructured and allows all of us to have a good time while receiving instructional support when necessary. I'm able to practice against opponents that are both a lot better and worse than me, so I can experience chess from all different levels," junior Tucker Albaugh said. 
The two co-founders have fostered a tightly-knit community, with each member helping one another out to improve on their gameplay. 
"I enjoy Chess Club because it allows me to engage in strategic thinking, analyze different perspectives, and challenge myself to improve my skills. It's a great way to exercise my mind and meet like-minded individuals who share the same passion for the game," sophomore Elliot Lam said. 
While Chess Club already boasts a large following of attendees and members alike, the group is still looking to expand its club. 
"I like that at this point, everyone who is at Chess Club is here to play, learn, and get better. I know there are a lot of people at Meridian who play chess, and I hope that they come to the Chess Club and find lots of joy and happiness," Drennan said.