Faces of Meridian: A helping hand
Dashing into the unit at lightning speed, the doctor storms through the sliding doors and rushes straight to the patient, conducting preoperative protocols while simultaneously checking the subject's vitals. Instructing one of the standby nurses with directions to proceed the operation, the physician speeds out of the room and heads to the next destination. Behind all the organized chaos lies sophomore Bethany Michael, shadowing her physician's every move while navigating her way through all the commotion.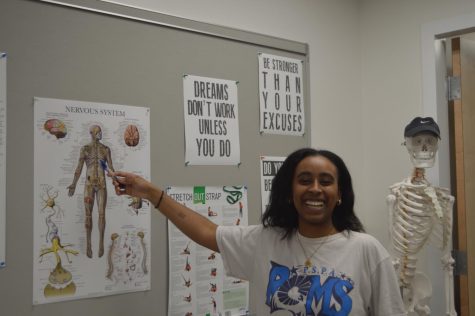 "I feel like everybody has their own thing going on and everybody's obviously preoccupied and stressed about something [in the hospital]. They are all doing their own thing. But at the same time, especially in the emergency room (ER), everybody's still somehow working together," Michael said. "Healthcare workers have a certain level of trust with each other because they bounce between different patients and share information with each other. A patient that was yours when they first came in, for example, could be somebody else's a few minutes later."  
Michael's journey with medicine began cultivating when she was just a curious and naive five-year-old preschooler. Whether it be hearing memorable experiences from her grandfather's extensive career as a "devoted doctor" or following her mother to the urgent care center after a family emergency, Michael was constantly exposed to and surrounded with medicine. Finding the hospital as a "second home," Michael quickly fell in love with the idea of helping others and immediately knew she wanted to become a doctor.
"I told myself, from a young age, that if I were to pursue a long-term career, I wanted it to be something that was not solely about me and instead, had some type of tangible impact on the world," Michael briefly mentioned. "Even in elementary school, just being able to do things for people with whatever I had at the time always made me feel like I left a positive trail on the world. Even in the most simple things, helping others made me feel like I personally have a purpose, and have something to contribute. Seeing the effect lending a helping hand has on people is always so rewarding." 
Michael involved herself in a variety of activities tailored to healing as she entered her adolescent years, often spending her weekends shadowing doctors and nurses at the Children's National Hospital in D.C. or working alongside physical therapists at rehab facilities for the elderly. Outside of her volunteer work, Michael enjoys conducting independent research on human anatomy and physiology.
"I often do independent studying in my free time. There are sessions that are offered by schools or online programs where you can hear from a surgeon or somebody else in the medical field talking about their experience, which makes it convenient to study from home," Michael said. 
Students can find Michael furthering her medical studies at Meridian, tending to students who need care and support.  
"I learned a lot of new and helpful information in my sports medicine class by helping Coach Galliher with injured athletes after school," Michael said. "Aiding Coach G with these clinicals takes a lot of individual learning because I need to catch up on all the muscles, bones, and other body parts that are susceptible to injuries."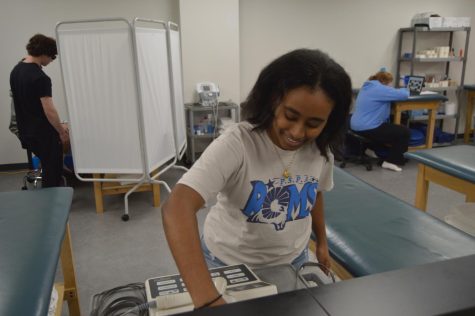 Michael uses various treatments among an array of different injuries when working with Galliher at the after school clinicals. She uses her extensive knowledge from her class, internships and independent studies to properly and effectively treat her young patients.
"It started off by making heat pads for injured athletes. Then, we learned about how to do electrical stimulation for muscles, laser therapy, or general stretching exercises," Michael said. Sometimes I'll be presented with an athlete who has already been diagnosed and who makes weekly trips to a doctor or orthopedic. For those cases, I'll just be working on rehab with them, teaching them stretches and exercises that they can take home and do whenever they need to."
Michael sees herself landing an occupation in the field of medicine in the near future. Her love of helping people whenever she can coupled with her childhood and current experiences of serving at the health center has only bolstered her dreams of becoming a doctor. 
"My ultimate goal is to eventually be working in the emergency care field at the hospital. I want to leave a lasting mark on this world by saving lives in the hospital and being able to help a family from losing a loved one. That would be my favorite all-time thing to do," Michael said.
Whether she's caring for student athletes or assisting doctors at the hospital with their job, Michael is invariably asking herself one question: how can I put a smile on someone's face? Michael found her purpose at a young age—lending a helping hand to a person who needs it—and will continue to work on fulfilling that task for the rest of her life. 
"Pursue your passions. Although I have my fair share of moments where trying to understand the human body can be exhaustive and demanding, I know I have a deep-rooted interest and love for this career, which allows me to always keep pushing forward, no matter what," Michael concluded.