Students react to 5th-floor testing
Every year following months of prep, Meridian hosts dozens of IB, AP, and SOL testing across many subjects. These high-tension exams take place within three weeks, starting this year, on April 28 and concluding at the end of May. The fifth-floor hub was walled off this year for testing, a change that's caused mixed feelings in students.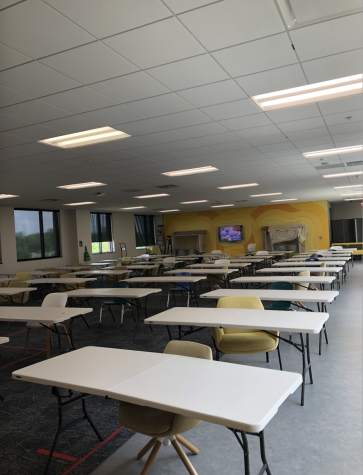 The Meridian Administration decided on the testing location after careful deliberation, taking into consideration the number of students testing, the space needed, the space available, and the efforts required to take down and set up between 30 and 100 tables for each test. The fifth floor, a large and quiet space, was seen as the best fit for a temporary testing location.
"So, thinking through the bigger problem of how we meet the needs of our students during testing and how we also best manage our resources as a school, the fifth floor was seen…as a place where we could set up tables for testing and leave those tables there for three weeks, reducing the burden we place on our employees to meet our students needs," said Meridian IB Coordinator Josh Singer.
After establishing the fifth floor as a testing location, the administration directed its efforts towards limiting distractions on the fifth floor. Admin notified teachers on the floor before testing, and dividers were added as an extra precaution. These measures, along with hall monitors to regulate traffic around the hub, ensured a quiet testing environment.
"We're going to do our best to make sure it's a quiet testing environment, and that's why we've posted signage and are trying to communicate as much as we can," Singer said.
Student sentiment on this topic is divided, with some seeing 5th-floor testing as another worry during a stressful time, while others feel more comfortable in a space like the Hub.
"I took IB tests last year and APs, and both were in the Aux or Main Gym. I felt like I was in a testing environment. There were no bells, no disruptions, no distractions. I felt that was a lot better," senior Grace Crum said, "[The exam] being on the fifth-floor hub, I did not really feel like I was taking the IB exam."
"I honestly did not mind the testing area because they did a good job blocking it off from the rest of the fifth floor with the brown paper and the wall [dividers]," senior Anna Dickson said. "I took the IB SL Spanish Five exam last year, which was in the gym. It really didn't feel much different than taking it on the fifth-floor hub other than the fact that the fifth-floor hub was smaller and more compact, but it didn't bother me. I just focused on my test."
Students like Dickson hope administrators "will improve with the [student] feedback given for next year" to ensure all students feel comfortable and motivated throughout the testing season.