Meet the SCA Exec Board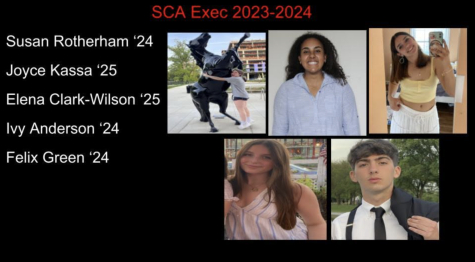 After the SCA Executive Board elections on May 15, the student body elected five candidates: juniors Ivy Anderson,Felix Green, and Susan Rotherham, as well as sophomores Joyce Tadesse-Kassa and Elena Clark-Wilson. 
Ivy Anderson
Ivy Anderson will serve on the SCA Executive Board as a senior. She is returning to the SCA next year after representing her junior class this year. "I'm super excited to represent the student body next year. It's going to be a great year!" Anderson said. 
Joyce Tadesse-Kassa
Rising junior Joyce Tadesse-Kassa will join the SCA Executive Board next year as well. She is the vice president of the Black Student Union and can be seen around the school playing tennis, volleyball and swimming for the school's varsity teams. 
She is the co-founder of the Medical Leadership Foundation and her involvement in all kinds of clubs and associations at Meridian informed her decision to make positive change with the Executive Board. "I'm super excited to be representing Meridian High School on the Executive Board." she said, expressing her excitement for the recent election results. "I can't wait to get started and meet with my fellow board members to determine what we can do to better our school and community!" 
Felix Green
Felix Green is returning to student leadership after serving on his junior Class Council this year. He strives to make sure every student's voice is heard and valued on the highest student Executive Board. "I'm looking forward to being a member of the Executive Board and making the school year better for all students." Green said. 
Elena Clark-Wilson
Elena Clark-Wilson will be on the Executive Board next after serving on the '25 Class Council for two years. Clark-Wilson is a member of varsity field hockey, softball, band and Mock Trial. "I'm really excited to be elected as a member of the 2023-2024 SCA Exec Board! I really appreciate all of the support I got in my campaigning. I think that with this new board, we can continue to make positive change in Meridian."
Susan Rotherman
Junior Susan Rotherman is joining the board with lots of experience, as she is the only returning Executive Board member. She is a member of Mustang Ambassadors, National Honors Society, Women in Athletics, and the IB Cohort Council. 
She also organizes a charity event annually to help fight childhood cancer and coaches an ice hockey team for those with special needs. "Being re-elected to the Executive Board means a lot to me," Rotherman said.  "I'm excited to listen, engage and work to ensure every student's voice is heard and valued this year. Roll 'Stangs!"