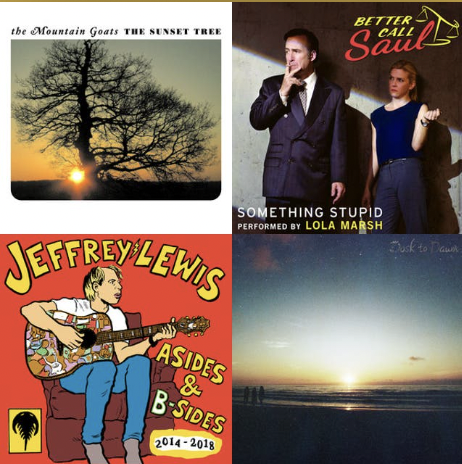 It seems like fall is passing by so quickly—September's already gone, Homecoming just happened, and Halloween's coming up… it's definitely important to live in the moment and make sure to take in that autumn air. Here are some tracks to help you find oasis between the excitement of a fast-paced fall.
"Something Stupid" by Lola Marsh is a track made for the popular "Breaking Bad" spinoff called "Better Call Saul." It's an energetic and atmospheric twist on the original song with a perfect harmony on top of that.
"Dance Music" is a fast-paced track by the legendary folk band the Mountain Goats. It's a fast-paced track that seems out of any teen coming-of-age movie—until you get to the last line. I don't want to spoil it, but it is the kind of clever lyricism that the Mountain Goats are known for. Additional shout-out to the piano lick!
Jeffrey Lewis tries his hand at Stereolab's smooth track "Wow and Flutter," and it's interesting and innovative in a fascinating fusion. He brings his loud-mouthed and brash cult indie attitude to the track. It's cool and brings more of a lo-fi, DIY shoegaze-y influence to the track.
"Hands Open" is a fun and upbeat pop-rock track by the Snow Patrol. I was convinced that they were from Canada for a long time, but turns out they're Scottish. The song is melancholy enough to have fun with it, but also feels heartfelt. Plus, whenever I hear this song, I get really excited at the reference (or allusion—HL Lit shoutout!) to Sufjan Steven's song "Chicago."
"Her Watch" is a new track by Japanese band Lamp, and it is a sweet, synthy track that has a nice bass groove underneath it. The track is off of their newest album, "Dusk to Dawn." They've been around for about 23 years (give or take) and this jazz-pop-bossanova-kitschy outfit has continued to release sweet and beautiful songs since then. They're part of the scene known as "Shibuya-Kei," which could be interpreted as Japanese twee—the name comes from the Shibuya district in Tokyo, known for its artsy bars, bookshops, and record stores.