Erik Boesen: Mason's tech guru
"As of last night, there were 285 users, which is like a third of the school. I was expecting maybe five or ten people to download it," said senior Erik Boesen.
Ask around, and everyone knows what the phrase "Newlogy" refers to – a Chrome extension made by senior, Erik Boesen, Mason's resident tech guru.
The extension alters the display of Schoology, in response to a November update. It simplifies fonts and color schemes, and changes the course and group tabs to lists rather than grids, along with "several hundred other graphical tweaks."
"I've never quite liked the way Schoology looks, but I never really thought to do anything about it until Tuesday," Boesen explained. "I decided I would just make an extension."
Newlogy is very popular among students, with one saying, "[Newlogy] has just made my life easier and gotten rid of little annoyances," said sophomore Marie Roche.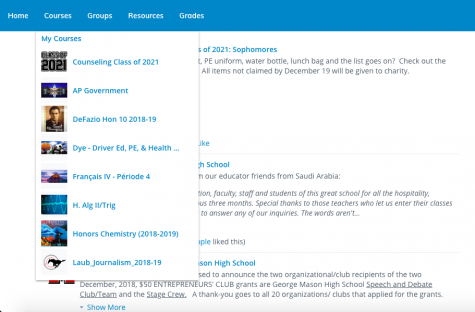 For most people, creating a Chrome extension isn't something that just happens on a Tuesday. But Boesen has been interested in web design since seventh grade, making his own personal website, designing for local businesses, and eventually making apps and extensions – one of which, an extension that simplifies the new tab page, has over 2,000 downloads.
The extension is one of the countless ways Boesen uses his expertise to help the student body. He leads our robotics team, is our student technical representative to the Student Advisory Board, and even writes for the Lasso explaining tech policy. Newlogy only adds to his tech-guru reputation.
"Everybody at school knows Erik Boesen and knows that that's the kind of thing he does," said Roche.
In the future, Boesen will return to MIT's Marine Autonomy lab for a second summer working on aquatic robots. In the fall, he will be attending Yale, where he will study computer science. He also plans to be a part of the Robotics team and the hacking team, "YHack," at Yale.