Teachers react as Falls Church releases new collective bargaining resolution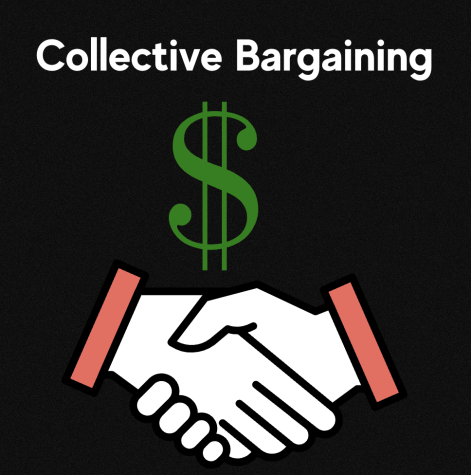 In May of 2021, the Virginia General Assembly passed a law that allowed cities, counties, towns, and school boards to engage in collective bargaining with their employees, as long as the local government passes an ordinance or resolution to authorize the practice. After a long process starting in April 2022, Falls Church City passed one such resolution on March 28, 2023. 
To develop the resolution, a committee consisting of school board members, teachers, and administrators from FCCPS, was formed to negotiate agreeable terms. 
Collective bargaining is when workers, through a bargaining agent, negotiate with employers to determine the terms of employment (pay, benefits, hours, leave, job health, safety policies, and more). A bargaining agent is a union or association of employees that participate in collective bargaining with their employer.
The resolution states that employees will have the right to organize and join employee organizations that facilitate collective bargaining, such as unions. Additionally, employees are free to discuss issues concerning these organizations during work, as long as it does not interfere with their job. Due to Virginia's laws, it also states that they cannot be forced or coerced to join any such organizations, and employees in a bargaining unit cannot go on strike. 
The resolution also lists issues that collective bargaining agents have no control over. These include the work that the school board performs; the promotion, demotion, and firing of staff; the school district's budget; and the introduction of new equipment and facilities. The full list can be found here.
Administrative and temporary employees are not allowed to participate in bargaining units, as are volunteers, employees that are solely athletic coaches, interns, and employees with access to confidential information. Some teachers see this as a fault in the resolution.

"I would love to see the administrators be considered a bargaining unit," Individual and Societies teacher, Ms. Pam Mahony said. Ms. Mahony was involved in the committee to pass the resolution during the spring of 2023 after another teacher resigned from their position. She believes that this resolution is a step in the right direction, although improvements could still be made. 
"It was not everything we'd hoped for. It was a very conservative resolution in the end, but it reflected a point where we could all be not uncomfortable," she said. "I think that in Virginia this is a change. Over 40 states allow teachers to collectively bargain, but Virginia is doing it for the first time in decades, and there is a reluctance on the part of some people that have the power to share the power in Virginia." 
Humanities teacher, Mr. Farrell Kelly, who was also involved in the committee last year, expressed similar thoughts about the transition. "I expect that there will continue to be some growing pains as we figure out how to move forward together … power is always a tricky thing to negotiate." 
However, Mr. Kelly still believes that collective bargaining is overall beneficial for FCCPS. "It offers staff the chance to bargain salary and benefits, but also some working conditions, and I think over time it allows for both staff and management to bargain more options."
One common thread between the two teachers interviewed was the impact that the agreement would have on students. No matter which teacher was asked, the consensus was that collective bargaining would have a positive effect on the student body.
"Staff who collectively bargain frequently will bargain for the common good … other school districts have bargained for making sure there is green space for kids to play on, things that benefit everyone," Ms. Mahony said.
Teachers react as Falls Church releases new collective bargaining resolution
Mr. Kelly expressed a similar sentiment. "We're looking at what working conditions are going to be like, what are class sizes going to be like. If we are looking to have conversations about how to make the schools better, then we are going to look at stuff that is going to have an impact on the students."