Dr. Dimock: "It's okay to zig-zag"
Susan Dimock has lived in Falls Church for a while but has encountered every environment imaginable. Growing up in Halifax, Nova Scotia, a province on the eastern coast of Canada, she then received her undergraduate degree from Cornell University, and her Master's in History from the University of Toronto. Additionally, Dr. Dimock received a PhD in Sociology from University of California San Diego, traveling all around North America.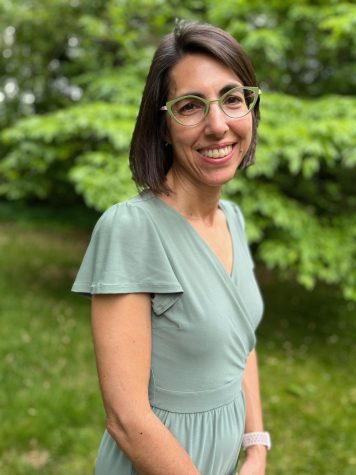 She initially planned to work as a professor, but later found her passion for policy and politics. 
"[Pursuing] a PhD, I thought I was going to be a college professor… I am now, but not truly. Towards the end of my PhD, I did a fellowship in the Senate. I really like policy."
Dr. Dimock wasn't always as outgoing as she is now. "I used to be a very shy person," she said, "and the experience of moving somewhere, not knowing anyone, making new friends and doing that repeatedly makes you a little less shy."
Her newfound confidence led her to the decision to run for the Falls Church School Board after her work on the Health and Wellness Committee, and eleven years after she moved to D.C in 2008.
"I was interested in schools, serving on an Advisory Committee, and wanted to get more involved." 
From the controversies surrounding the COVID-19 pandemic policies to the FCCPS name-changes, Dr. Dimock has experienced a lot of controversy in her short time on the School Board. A lot of debate goes into tough decisions, and some may feel like certain voices are underrepresented, however Dr. Dimock disagrees.  
"There are seven people on the School Board. And to do anything on a Board like that, you need four people to agree with you. So I think each voice does matter on the School Board."
The School Board has taught Dr. Dimock how the school system works, and also empowered her to make decisions in her job. Her knowledge has helped her as she formulates goals for her remaining time on the Board. 
"We passed a collective bargaining resolution. The teachers and staff will be holding an election to formally recognize a collective bargaining representative. I think that's a really huge change for our school system." 
A collective bargaining resolution is a process used to determine work conditions and regulate relations between employers, workers and their organizations. 
"Up to now public sector employees in Virginia– people who work for the school system or the city or the county– have not been able to engage in collective bargaining… A number of years ago, the state legislature and governor passed a law allowing collective bargaining in Virginia, not for state level employees, but for local city and county level employees…process-wise it's been very interesting."
Dr. Dimock assumed her role on the School Board in 2019, and has learned to adjust to the everchanging legislative climate.
"When I first came on it was a good time to run for School Board. Budgets were good. We had this new high school going in. It was, of times, to run for school board, which seemed to me to be a great time. I had all these things that I was interested in coming to the school board, and then the pandemic happened. So what I came in thinking was going to happen was very different from what happened, but that's okay."
Dr. Dimock is used to life not going as planned. "It's okay to not have a plan that goes ABC… it's okay to zig-zag."
Dr. Dimock runs a DC internship program. With two evening sessions, Dr. Dimock oversees internships, faculty hiring, and resolves roommate issues. She guides inexperienced students in DC, witnessing their growth from novices to confident professionals, equipped with job search skills and professional acumen.
"What I liked about working in women's health was working with a group. And what I liked on Capitol Hill was working with a group of people to forward something that is meaningful and important to you. A part of the mission of [Loyola] is to be a person for others."
Dr. Dimock advises students looking to make a difference to reach out and meet with the board. 
"Well, we like hearing from students…Make your voice heard and it's more meaningful to make your voice heard if you actually go and speak. It's more meaningful than signing a petition."