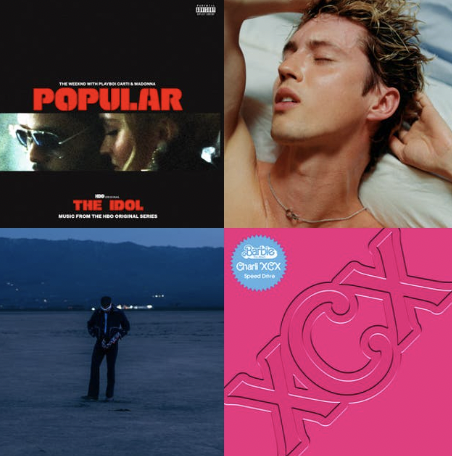 Hi, Lasso readers!
Can you feel it? There's a slight breeze in the air, and everyone else in the city is boarding themselves up in their houses to avoid the post-dismissal rush at three thirty… yep, we're back to school. It can definitely be daunting—when my Mandarin teacher gave out the IB textbooks, I almost fainted while leafing through the content. But whether you're a senior who isn't even ready to think about testing, or a new freshman navigating the halls, this playlist is sure to give you that little boost we all need.
"Popular" by Madonna, Playboi Carti and The Weeknd is a track made for the controversial TV show "The Idol." Whether or not you can stand the show, this track is smooth and electric. Madonna sounds amazing, and the laid-back drums work well with The Weeknd's slippery, falsetto vocals. The vocals on the chorus are odd enough to really hook you in. The track feels mesmerizing… until they repeat Playboi Carti's "Money on top of me…" four times. I got annoyed by Carti's verse very quickly. I think his delivery is fine and honestly fits with the song, but I cannot hear the same line four times in a row. Still, it's a small detail that overall doesn't detract from the track.
Troye Sivan's new song "Rush" really lives up to its name. The track is an energetic burst of fresh air, and the "I feel the rush…" hook is hypnotizing to me. I can't explain it, I just love it. I have to say, I really hated Troye Sivan before this. I'm not sure why—I think I just found him annoying after 2018's "Bloom." It may also be some jealousy—if he gets to be friends with Charli XCX, then why don't I? Regardless, this track is light as a feather and deserves all the hype it's getting. I'm really excited about his new album, and I love the remixes of this track, too—definitely one of the top tracks of this summer.  
Never fear XCX Nation, because Charli is back, too! "Speed Drive" is a killer track that bursts out at you. It's electric, energetic, and perfect for "Barbie." It harkens back to "Vroom Vroom," and many Charli fans (read: mainly me) are hopeful that this indicates an urge to return to her experimental roots. This track cements Charli's place as the queen of hyperpop—and just between you and me, she really needs a win after "Crash" crashed.  
"WHERE SHE GOES" is a track from Bad Bunny that I adore. It's a new track kicking off what feels like a totally new era for Bad Bunny, and his voice sounds incredible on this track. I love the almost-droning quality of the bass on the verse, and it's a moody track that knows when to pick up the pace. The subject of the song comes through enough, even to non-Spanish speakers—it's a sort of wistful longing for someone you're not quite sure you know. At least, that's what I think from plugging it through Google Translate, but if you're an AP/IB Spanish student who wants to fact-check, let me know. 
"Summer for the Loners" by Blue Hawaii is another new track with a fire, whumping bass that goes on forever. It's a headbanger for sure, with a melancholy feel that slowly creeps up on you as the song goes on. The first time I listened, it was on a playlist, and I didn't notice that it is quite disorienting if you pause to listen to the lyrics. It reminds me of one of my favorite songs, "So Hot You're Hurting My Feelings," a danceable track until it hits you hard. The quiet sadness mixed with a neat club banger in both songs really strikes a chord with me, and it might for you, too. 
"Everyone" by Babymorocco has a fun, experimental bent that's just plain goofy. The lyrics have a sort of whimsy to them, as Babymorocco half-sings, half-raps "They'll say I have narcissistic personality disorder… But when I smile, I don't have to pay for my coffee order." In addition, the heavy bass feels like a wave that the listener is riding, and it's enjoyable to listen to. I don't want to be bummed out every time I put on my headphones, you know? 
"Cola Head"' by Willow Kayne has such an incredible beat. But in the interest of full disclosure, I thought the song was just okay—that is, until I got to the bridge. "I want you… You crave her," sounds ethereal and her voice makes the verse sound so addictive. I also like the shouted verse, but it took some warming up to. . Some tracks I love on first listen, and I do have to be real, this one isn't it. But it has incredible replay potential, I promise.