No way to Chick-Fil-A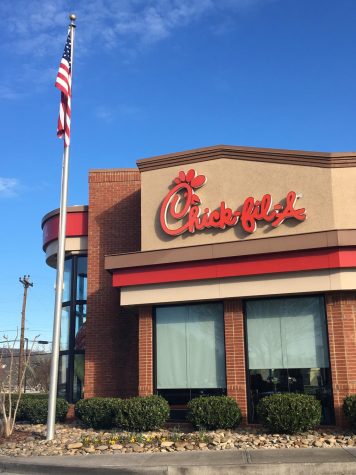 The Mustang Athletic Boosters Association (ABA) sells Chick-Fil-A sandwiches at the concession stand during various sporting events throughout the year to raise money for their activities. These efforts include scholarships and buying new equipment, but not everyone is happy with Chick-Fil-A being sold on school grounds. 
"​​It definitely does make me feel weird, though, because I've known that Chick-Fil-A funded some pretty gross stuff for way longer than I've known I'm trans," junior Jamie Williamson said. 
Junior Hannah Hall thought that Chick-Fil-A being sold on school grounds could make students uncomfortable, even if the fast food chain is popular. 
"I think we all know they're homophobic, and I don't think our school should be supporting a place like that," Hall said.
Due to the company's history of supporting anti-LGBTQ+ activists, Chick-Fil-A should not be sold on school grounds because it has caused psychological, emotional, and social harm to LGBTQ+ students.
The Mustang ABA chose Chick-Fil-A because it is easy to cater and it generates significant revenue for their activities. 
ABA Director At-Large Becki Creed cited how opposing teams drive hours to play at our facilities. Selling Chick-Fil-A is also a tradition for many schools in the Shenandoah Valley, according to Creed, and offering the sandwiches as an option "makes the atmosphere."
The Mustang ABA splits 50 percent of their profits with the athletic department, but most of that revenue generated by the concession stand does not come from Chick-Fil-A sales. In addition to Chick-Fil-A, the Athletic Boosters Association sells hot dogs, candy, soda, and pizza.
The cultural standard of hospitality, while a valid concern, does not need to include Chick-Fil-A. Due to their recent support for anti-LGBTQ+ organizations, Chick-Fil-A is no longer a universal American staple, but there are plenty of alternatives that are. Pizza, for example, is well loved by all people, no matter sexual orientation. Meridian High School would not be any less hospitable than other schools if we served pizza, instead of Chick-Fil-A. The school could cater from the Little City's own 10 Pizza, Pizzeria Orso, or Ledo Pizza. Hospitality is about belonging and making someone comfortable in a new environment. A student is worth more than a $4.29 sandwich.
Just because the Mustang ABA has never had a problem before with Chick-Fil-A does not mean that we can't discuss alternatives. Times change, and the argument that something hasn't been a problem before is insufficient. As an example, a student may not speak up about their identity and experiences due to fear of being mocked. This is why at least opening the conversation of stopping the sale of Chick-Fil-A at school is important, if not fully stopping the sale of the company's products. 
According to Creed, the way to implement change is emailing ABA President Stacey Shonauer before presenting the case for the elimination at a meeting. Decisions have to be made by the majority of the board, but Creed stated that, "[the board is] open to listening."
To quote "Bystander" by children's author James Preller,"In the end, we remember not the words of our enemies, but the silence of our friends." A school that prefers to eat fried chicken rather than create a comfortable atmosphere for its students is not a school that can call its students  "caring, balanced, and open minded thinkers."